The Wine Industry is Much More than Wine
The Technology Behind Wine Commerce
People may be aware that the wine industry has regulated products and requires complicated reporting, and even that the industry has been growing fast for a long time.  But when most people think about the wine industry, they think of the reason they love it, which is of course wine itself.  At FORT, we love the final product too, but our focus is on the other side of the industry . . . the nuts and bolts, and the gears that makes the engines run.  Reporting and regulations define much of our platform, and technological innovation has helped us make many of the requirements and processes easier to manage for key industry players.
Technology plays a critical role in the wine industry, and that role has grown significantly over the last several years. More wineries today rely on technology not just to produce better wine, but to reach new customers, to better understand consumer behavior, and to identify and profit from new market opportunities.
FORT was built from the ground up, with each module and detail forged by the actual issues wineries face every day.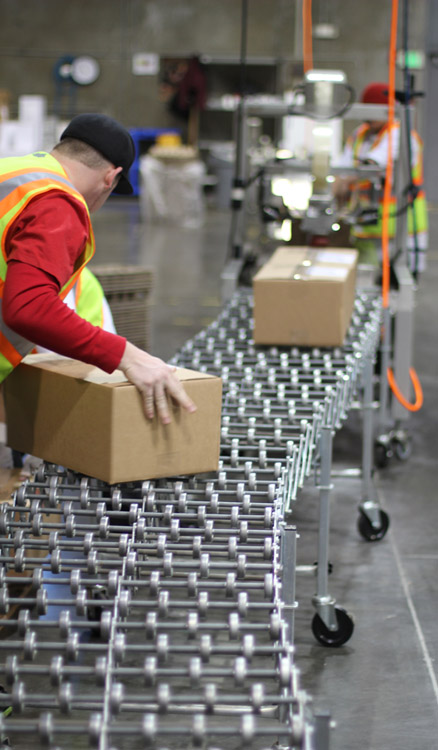 Built for the wine industry, where complexity is the norm
Fully integrated:  everything you need in one system
Cost efficient:  save time and thousands of dollars while retaining more profits
While our platform now serves several different industries, wine remains our core focus. We have found that our initial focus on wine has made it relatively easy to tailor our platform for other industries. The complexities involved in shipping wine from a licensee to a consumer–or from a licensee to another licensee–make other product categories relatively simple in comparison. We zero in on the nuts and bolts of transactions . . . fulfillment, shipping, compliance, and seamless data transfer, and strive to make the entire order-taking and shipping process more efficient.
A key problem plaguing wineries and other companies is the use of multiple systems when one should handle the entire order cycle: club, ecommerce, compliance, and fulfillment. In addition, companies find that keeping track of multiple inventories can be very challenging. A single winery might have separate inventories for many different areas, such as deep storage, club, tasting room, daily orders, etc.
FORT provides a single, integrated system to manage all aspects:
Plug and play with 3rd party systems
POS and order management integration
Integration with fulfillers (3PLs) and couriers
Powerful and fully integrated compliance solutions
---
Direct-to-Consumer Growth Statistics
Direct to consumer wine shipments have exploded over the last several years, and now exceed 3.5 billion cases annually.
With the tremendous growth in direct-to-consumer wine shipments over the past several years, the demand for world class technology solutions has also risen rapidly in the wine industry.  A core part of FORT's mission is to address this demand.  First, some quick background on the growth in the market itself.
The direct-to-consumer wine market has experienced substantial and sustained growth over the past many years. Wineries of all sizes–from those producing over 1 million cases annually to those producing just a few hundred–are increasing the percentage of direct-to-consumer sales. While a direct sale might represent a higher profit margin for a winery, it also of course creates an opportunity for a direct relationship with a customer. As wineries produce wines of higher quality, these direct relationships become ever more important.
Some highlights of direct-to-consumer wine shipping in 2013 include:
Volume increased 9.3% to nearly 3.5 million cases
Total direct sales increased 7.5% to $1.57 billion
The average retail price for direct-shipped wines was $37.78, six times the national average retail price for a bottle of wine.*
And this is where the demand for more efficient systems comes in: better ecommerce engines to determine shipment eligibility, volume restrictions, and calculate local sales tax, better compliance engines to manage a growing volume of state permits and reporting, and better fulfillment software to enable efficient packing, shipping and tracking of all packages.  Wineries now expect to be able to log into a secure, real-time data system that lets them upload orders (both direct and 3-tier), check compliance data, check the status of existing orders and shipped packages, manage communication with their own customers, and much more.
These same demands are growing in several other product categories and industries as well, and we see this trend in both the business-to-consumer and business-to-business channels.  Meeting these demands will continue to shape our focus and trajectory.
Winery Growth
The US wine industry has undergone explosive growth over the last 30 years.  We are now the world's largest wine market, and have an ever growing number of consumers demanding high quality wines.  Wine has become a centerpiece of life for many American families, as it has been in Europe for centuries
Since the early 1970's, the number of wineries in the US has increased by more than 10 times.
More US wineries. There are now nearly 8,000 wineries in the United States, and the growth rate is showing no signs of slowing.  In fact every single US state has a winery now!
Better quality wines. The US has a long history of wine production . . . Thomas Jefferson famously had vineyards on his Virginia estate.  Today we produce dozens of varietals that compete with the best wines anywhere in the world.
Greater consumer demand. Consumers now expect world class quality from US wine producers, and they get it.  Consumer demand extends not just to wine quality, but to technological sophistication as well.
Since the early 1970's, the number of wineries in the US has increased by more than 10 times.
"Making the simple complicated is commonplace; making the complicated simple, awesomely simple, that's creativity."
~ Charles Mingus