The FORT System's original focus was the wine industry, and wine remains our core focus. The system was built from the ground up to address and solve the various problems facing key areas of the industry, such as shipping, compliance, and seamless data transfer. Each module and detail were forged by the actual issues wineries face every day.
A common roadblock plaguing wineries is the use of multiple systems when one should handle the entire order cycle: club, ecommerce, compliance, and fulfillment. In addition, companies find that keeping track of multiple inventories can be very challenging (deep storage, club, tasting room, daily orders).
FORT provides a single, integrated system to manage all aspects:
Plug and play with 3rd party systems
POS and order management integration
Integration with fulfillers (3PLs) and couriers
Powerful and fully integrated compliance solutions
Built for the wine industry:  we know the wine business
Fully integrated:  everything you need in one system
Cost efficient:  save time and thousands of dollars while retaining more profits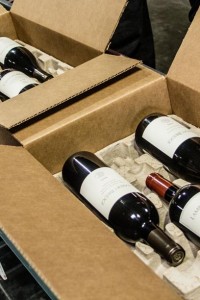 Shipping wine
Power of the Cloud. FORT's SaaS platform makes fulfillment and inventory management a snap.  You can be up and running in days, far faster than you would with traditional systems, and for a fraction of the cost.  With FORT you get a proven, scalable platform, regular free updates and new releases, and a simple, intuitive interface.
High Speed Label Generation. Whether you're shipping 10 packages or 10,000, you want label printing to be quick, easy, and accurate.  FORT's proprietary technology ensures this while minimizing the possibility for errors, mis-shipments, duplicates, etc.
Compliance & Reporting. Manage state-specific reporting, set eligibility filters by client or licensee, automatically generate courier- or state-required label messaging based on product type, and more.
Direct vs Indirect. Manage direct-to-consumer or direct-to-trade shipments as well as indirect shipments which may require consolidation, clearing through other licensees, zone-skipping, etc.
Complete Control. For those seeking a total solution that will provide the mission-critical accuracy and ease-of-use necessary for today's dynamic companies, there is no solution better than FORT.
FORT's industry leading SaaS platform has processed millions of transactions for customers all over the world, and we continue every day to make it simpler and even more powerful.